Jerrold Young, M.D., F.A.C.S.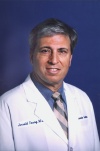 Dr. Jerrold Young grew up in Montreal, Canada. He attended McGill University and in 1967 graduated magna cum laude with a Bachelor of Science degree. He attended medical school at McGill University, where he served as class president for four years and received his Medical Degree in 1971. He concurrently earned a Master of Science Degree in Experimental Surgery in 1971 doing surgical research.
Dr. Young completed his surgical internship and residency training at the University of Miami in 1976 and is currently, a Volunteer Associate Professor of the Daughtry Family Department of Surgery at the Leonard Miller School of Medicine (University of Miami). From 1976 to 2002, Dr. Young was director and chief surgeon of the South Florida Surgical Group, practicing general and vascular surgery in Miami, during which time he repaired more than 5000 abdominal wall hernias as a part of a busy surgery practice. During that period, for several years, he was chief of Surgery for Baptist Hospital and South Miami Hospital.
In 2002, Dr. Young became the Chief Administrator and Director of Surgery at the Hernia Institute of Florida, where he was mentored by Dr. Arthur Gilbert. Since that time he has limited his practice to the field of herniology – the diagnosis and treatment of abdominal wall hernias and problems related to them. Since 2002, he has repaired more than 7000 hernias at the Institute, including inguinal, ventral, and umbilical hernias, as well as many complex incisional hernias. He is an advocate of the Prolene Hernia System repair technique developed by Dr. Gilbert at the Hernia Institute in 1997, but uses other popular techniques such as the Lichtenstein technique, tailoring the repair to the needs of the patient. In addition to common primary hernia problems, Dr. Young sees many patients with complex problems after hernia surgery, such as recurrent hernias and problems related to chronic pain after hernia surgery.
Dr. Young is a Diplomat of the American Board of Surgery and a fellow of the American College of Surgeons (F.A.C.S.). He is a past president of the South Florida Chapter of the American College of surgeons, and is currently a Governor of the American College of Surgeons. He is a member of the American Hernia Society, where he served as a member of the Board of Directors for six years from 2006 to 2012.
For many years, Dr. Young performed live video surgery for Advanced Hernia Courses based at The Hernia Institute, which was broadcast live to surgeons from all over the world, and recently to the American Hernia Society Educational Meeting held in Orlando. He has lectured nationally and internationally at many meetings on topics related to hernia repair, including a talk on "Why Experts Fail" given at a meeting of invited hernia surgery experts in St. Moritz, Switzerland. Dr. Young has presented papers at national and international hernia societies on "tailoring hernia surgical technique" to the patient, results from 12,500 Prolene Hernia System repairs the Hernia Institute, and the use of "Exparel", a long acting local anesthetic for hernia repair. Dr. Young has several publications, including a Chapter on Hernia Repair in the most recent edition of "Mastery of Surgery", a textbook of surgery edited by Dr. Josef Fischer.