Gracias por visitar el website del Hernia Institute of Florida.Es nuestra desco sincera que podamos asistirlo y contestar sus preguntas sobre hernias y los excelentes resultados de nuestros sistemas de reparación de estas.Tambien Ud. puede aprender sobre las investigaciones y desarrollos que estamos haciendo en el Instituto.
Nuestros cirujanos estan certificados por el American Board of Surgery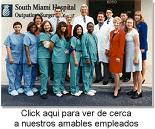 Se especializan haciendo solamente cirugia de reparación de hernia y han reparado más de 15.000 hernias. Nuestros empleados lo asistirán en programar los detalles de su operación.Nuestro servicio de concergeria está disponible para hacer los arreglos de su viaje, reservaciones de hotel y planear con Ud.sus actividades en la ciudad de Miami.

Si tiene alguna pregunta sobre su hernia o sobre los procedimientos para las reparaciónes puede enviar un e-mail o llamarnos al (305) 667-7878.
Respetuosamente,
Arthur I.Gilbert, M.D., F.A.C.S.
Presidente y Director de Cirugia
 6705 S Red Rd, Suite 302 – Coral Gables, Florida 33143
(305) 667-7878
hif@hernia-institute.com