Dear Dr. Graham, Vivian and associates at the Hernia Institute,
About a month and one-half ago, I hurt myself loading a heavy piece of ready to assemble furniture into a customer's car with another employee. I developed an epigastria hernia right above the naval. At first, I balked at the idea of going 1500 miles away from home to some strangers I never heard of to cut my body. I had had a laparoscopic surgery for a left inguinal hernia done 6 1/2 years earlier and thought that my doctor had done a pretty good job and did not want to change. After a few phone conversations, I agreed to go to their website and call them. The associates at the institute were extremely empathetic and assured me I would get first rate care and services.
Everything was handled for me, from transportation to accommodations. I was put up in a first rate Marriott and was given several phone numbers, including Vivian's home number, in case something went amiss. The office visit went well. Dr. Graham explained what type of surgery and anesthetic would work best for my situation and why. He answered all my questions and the ladies at the institute were extremely helpful in putting me at ease.
The surgery started at 8:30 AM with an epidermal. At 9:10 AM, I asked the doctor how it was going and he told me he was done (that's funny, but after the tranquilizing shot and epidermal, I was so relaxed that I do not remember the surgery).
Two hours later, I walked a mile to mile and a half to the mall and then through it. I did not use any pain medication of any kind save for a non-medical magnetic devise over the wound. After a week, I could run and removed the bandage. After two weeks, all the tape was off and just a small red scar 1 1/2 in bump and two skin blips from the shaving before surgery or the tape remained. Maybe in another two weeks, I'll be 100% there, too.
I credit the institute with a world-class procedure and craftsmanship and the immediate ice pack on the wound after surgery for swelling reduction. The folks at the Larkin Hospital were real friendly and caring too. The Hernia Institute was like an old friend or an old pair of shoes that your are very comfortable with. They handled everything and were very caring and considerate of my needs. Very refreshing for a time when health care cutbacks and healthcare administration take out the personal caring element. I cannot say enough for Vivian, Dr. Graham and the associates. I am deeply grateful, impressed and thank you from the bottom of my heart. I would recommend or refer them to anyone.
Thanks again,
T.R.
P.S. It is refreshing to see a truly client-centered health institute that makes you feel like they're one of the family-warm and caring.
---
We really appreciate all you have done. Thank you for your concern and taking care of all little details.
B. & L. T.
---
Both the Hernia Institute & Larkin Hospital were excellent facilities. The staff, nurses, and doctors were pleasant and very professional and caring. Although I was not looking forward to this event. It turned out to be a very pleasant one. A higher rating by me could not be given.
TL
---
The Hernia Institute made this experience easy. We appreciate all of the help from Mrs. Roz and Vivian as well as the rest of the staff. Thank you for you help and concern. You all were wonderful.
P. H.
---
Everyone was wonderful and I would recommend the Hernia Institute to anyone.
P.C.
---
The service from everyone here in Miami Hernia Institute wassuperior. It was very refreshing to have an experience that made me feel both cared for and about. My thanks to everyone (especially Jennifer and Vivian) who made my trip so easy and comfortable. Thanks to all!
G.F.
---
I really appreciated every thing you all did for me. Everyone was great- the service and staff were all wonderful. Thank you again.
V.W.
---
Exceptional on all counts! I wish to commend the entire staff of Dr. Michael Graham from the receptionist to the girls in recovery, to the girl that discharged me. The hospital left no stone unturned. Thank you so much.
J.M.F.
---
Great!!
K.V.
---
Everyone is just great! It has gone so smoothly for us. You couldn't ask for better care. Call us if you are in Little Rock and we will treat you to a steak dinner.
H.D.
---
The doctor and staff were very satisfactory couldn't ask to be treated any better than they treated my wife and I.
J.W.O.
---
I would like to express my thanks and appreciation to the doctors, nurses, staff and all concerned in the administration for helping me at the times before and after surgery. Everyone there at South Miami Hospital was very professional and caring for the needs of the patient. I am deeply grateful. Special thanks goes out to Reg, Jennifer, Dr. Graham and Lori.
A.L.Z.
---
I really appreciated everything you all did for me. Everyone was great. The service and staff were all wonderful. Thank you again.
H.M.W.
---
Dear Dr. Graham, staff & nurses,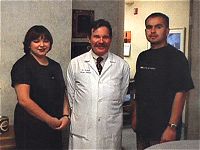 We are sending this thank you card your way to say "Hello", and to let you all know we're doing fine. We can't thank you enough for all that you and the staff did for my husband and me. You all made the trip very comfortable and your support to my husband meant the most to him. he really needed the positiveness you all gave him. We thought that you all should know that it meant a great deal to us and that we will not forget such wonderful people like you. Thank you all again and god bless.
~ J.O., California
---
I was truly impressed with all of the staff. I enjoyed meeting everyone there. They took what would be a confusing trip and made it so simple a child could have followed the instructions. Every question was answered. Every problem was solved quickly. Dr. Michael Graham was great, very professional and kind. We need people like you here in Kentucky!
~ J.S., Mayfield, Kentucky
---
I want to thank you all for the care and kindness you showed. It is nice to know there are people who care. You don't see that much these days.
~ C.S., Deltona, Florida
---
My special thanks to everyone who assisted in my care from the contacts before with flight instructions down to the surgery and to the point of flying home. My wife and I applaud you all and wish all medical facilities could achieve this one-on-one personal care to all patients, which would cause more people to trust their hospital and medical facilities instead of putting off needed procedures.
~ S.I., St. Augustine, Florida
---
The people at the Hernia Institute care about YOU. This is real and very hard to find. My wife and I thank you.
~ A.J., Raleigh, North Carolina
---
We couldn't have been treated better. There was a genuine concern for our travel plans and our stay above and beyond the surgery. Patient and spouse were both important to the staff. Thank you so much for taking such good care of us!
~ B.H., Colombia, South America
---
To Dr. Young and staff,
I want to thank you all for the very friendly and extremely professional manner with which I was treated.
My surgery was a repair of a previously repaired left inguinal hernia. My right side was also done at the same time, and it had to be redone after a few months. (I don't intend this as an indictment of my previous surgeon, in whom I still have confidence, but I guess I was among the small percentage of patients who require additional repair.)
The first procedures (both sides, and the repeat on the right side) were done via laparoscope. Given that I needed a second repair, I decided, after hearing multiple recommendations about you, to use The Hernia Institute.
I was pleasantly surprised that my most recent procedure, done in the standard manner, required no additional recovery time beyond the time required after the laparoscopic procedure.In some ways recovery was easier to manage, since only one site was affected.
My post-op discomfort was reduced by the use of the special local anesthetic you recommended, and since only a single surgical site was created, any remaining pain was localized. After about 3 days I could move around pretty well, and most pain was gone after about 5-6 days. I needed only one pain pill stronger than regular Tylenol. I don't know whether that is typical, but I was surprised.I returned to work after a week, but probably could have returned sooner if I had to.
Dr. Young's briefing on the procedure was comprehensive, and having his cell number gave me confidence that I would not be ignored if a problem arose. The office staff made the scheduling process a breeze.You demonstrated that it is possible for medicine to be both caring and professional.
Well done, and once again, thank you all.
~RK
---
In 2012 I had surgery to repair an inguinal hernia. I thought this would be a simple procedure with a quick recovery. I also thought that going to a general surgeon for the procedure would not be a problem. After my initial surgery I knew right away that something had gone wrong. Shortly after the procedure I developed severe nerve pain that radiated down my leg and wrapped around to my back. Before the procedure I had some testicular discomfort from the hernia that turned into severe debilitating pain a few weeks after the surgery. I tried everything to get this pain to go away. I tried nerve blocking injections into several nerves, radio frequency ablation (RFA), and high doses of nerve blocking medication. None of this was helping my condition that was at this point affecting every aspect of my life.
After the way the first surgery went I was a little worried to say the least about having another procedure. I talked to Dr. Young and staff at the Hernia Institute of Florida a few times and made the decision to travel from my home in New Mexico to Miami to have a triple neurectomy and removal of the mesh. The idea was to sever the nerves running to the area where my pain resided. He explained that my problem is sometimes a consequence of hernia surgery. After meeting with Dr. Young the day before the procedure I felt very confident. I would not have wanted to undergo a serious procedure like this with a less experienced surgeon. This was a major surgery with a significant recovery time, but looking back now 6 months later I am finally myself again. Dr. Young followed up on a regular basis and even visited me in my hotel in Miami over the weekend before I flew home. I am now able to do most everything that I was before my first surgery and have achieved a level of recovery I am very pleased with. I guess the biggest lesson I learned here is to get things fixed right the first time. Dr. Young has performed an incredible number of hernia repairs and in my case fixed problems caused by my previous surgery, and for that I am extremely grateful.