"DO IT RIGHT THE FIRST TIME"
NAVIGATING THE WEBSITE
Welcome to the website of The Hernia Institute of Florida, a tertiary care center dedicated to the care of patients with problems related to abdominal wall hernias. It is our sincere hope that we can assist you and answer your questions regarding the diagnosis and management of hernias, and about our experience and the excellent results of our hernia repair procedures. As you browse through our web-site, you will find hi-lighted links to information about the Hernia Institute our staff and our surgeons, and the role they have played in the development of hernia surgery techniques and the education and training of surgeons around the world. Also, you can learn about some of the history of hernia surgery and some of the groundbreaking research and development we are doing at the Institute. Within each link there will be a brief discussion of the subject, and in some cases a more detailed discussion for those who want more information. Should you have any questions regarding your hernia, travel to Miami, or our repair procedures, you can e-mail us or call (305) 667-7878 to speak to our staff.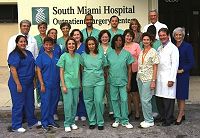 Hernia Institute Surgeons
Our surgeons are certified by the American Board of Surgery. They are among the very few surgeons in the world that specialize by performing only hernia repair surgery. The Hernia Institute surgeons have repaired more than 45,000 hernias. Our support staff will assist you in planning the details of your surgery. Many of our patient travel to Miami from around the United States and the rest of the world to have their surgery done at the Hernia Institute. Our Concierge Service is available to assist you with your travel arrangements, hotel accommodations and activities while you are here in Miami.
Should you have any questions regarding your hernia, or the repair procedure we do, you can e-mail us or call (305) 667-7878.
 6705 S Red Rd, Suite 302 – Coral Gables, Florida 33143
(305) 667-7878 –  hif@hernia-institute.com