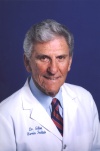 Dr. Gilbert Recognized in
"Best Doctors in America"
Arthur I. Gilbert, M.D., of the Hernia Institute of Florida, is the only hernia specialist listed in The Best Doctors in America Southeast regional Edition.
Dr. Gilbert, who started his career as a general surgeon, began specializing in hernia repair 30 years ago and has performed more than 22,000 hernia repairs since then. He developed a classification of hernias that is used in most of the

world, developed a repair technique that dramatically decreased patient discomfort and complications, and most recently worked with Ethicon, a Johnson & Johnson company, to develop a new one-piece hernia repair system which helps general surgeons improve their hernia repair outcomes. Dr. Gilbert was a founding member and the first president of the American Hernia Society. He has authored numerous articles on herniology, and has lectured at many surgical meetings and medical schools. He is Associate Clinical Professor of Surgery at the University of Miami Medical School.