DR YOUNG JOINS HERNIA INSTITUTE OF FLORIDA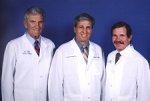 Dr. Jerrold Young has joined Dr. Arthur Gilbert and Dr. Michael Graham at the Hernia Institute of Florida located on the campus of South Miami Hospital.
Dr. Jerrold Young attended McGill University in Montreal, Canada, and graduated Magna Cum Laude with a Bachelor of Science degree in 1967. He was class president of his medical school class for four years, and received his Medical Degree in 1971. While in medical school, he participated in a research project and concurrently earned a Master of Science Degree in Experimental Surgery, with a major in computers. He completed his surgical training at the University of Miami in 1976, and is a voluntary Clinical Associate Professor of Surgery in the Department of Surgery, University of Miami School of Medicine. For twenty-five years he ran of one of the largest and most successful general and vascular surgery practices in Miami. In that time, he performed approximately five thousand hernia operations of different types. Dr. Young will be the Director of Surgery and the Chief Administrator of the Hernia Institute.
Dr. Young states: "Over the years I have used all of the techniques for hernia repair, beginning with early suture techniques, changing to different mesh repairs when they were available, and most recently to the Prolene Hernia System technique developed by Dr. Gilbert in 1997. I have been impressed with how easy the technique is for both the patient and the surgeon – most cases are done with local anesthesia and sedation, there is less pain with the tension-free techniques, and patients ambulate immediately, and are back to normal activities within days. That is the reason why surgeons from all over the country and the world, including many University Professors, come to our training seminars at South Miami Hospital – to hear our lectures, learn our techniques, and view our live televised broadcasts of the procedures we perform."
"Since coming to The Hernia Institute, I can appreciate the difference from my general surgery practice. Our office is geared to helping our patients – because we see fewer patients, we are able to provide them with a different level of service. By concentrating on hernias and learning Dr. Gilbert's technique, I have learned many things about the anatomy and physiology of hernias. I can now offer the patients the same high quality of care that I have always provided, but in a concentrated area at a true Center of Excellence. Our combined experience for our surgeons at the Hernia Institute is over 35,000 cases. There are more hernias repaired here than in any other practice in the United States. With the Prolene Hernia System, there have been only four recurrences in over three thousand five hundred cases. There is a difference."
"By asking me to join him at The Hernia Institute, Dr. Gilbert has given me the opportunity to continue practicing surgery at a very high level. The administrative and educational challenges are very exciting for me. Dr. Gilbert has taken a very select area of surgery, and has become a world-renowned expert in the field. As my mentor, I will be able to use all of his knowledge and experience to continue the tradition of quality that he has created here in South Florida."
Dr. Young is a member of the American Hernia Society. He is board certified by the American Board of Surgery and is a Fellow of the American College of Surgeons (FACS). He is a member of the Dade County Medical Association, the Florida Medical Association, the Jackson Surgical Society, and the Southeastern Surgical Congress. He has served as Chief of General Surgery at Baptist and South Miami Hospitals. He is a member of the Baptist Hospital Foundation, the Society of University Founders of the University of Miami, and a founding member of the Maimonides Society. From 1987 to 1991, he served on the Board of Trustees of Ransom Everglades School. He has been a volunteer surgeon for the Good News Clinic in Florida City, and the Community Health Clinic in Goulds. He is a medical technology consultant and has lectured and written articles for national healthcare technology magazines. He is currently the co-chairman of the Baptist Health Net Access committee.